MP3 » Paul Zigfrist – The Mixtape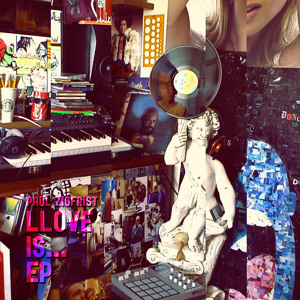 - di Stefano Zago
Paul Zigfrist è un artista vicentino. La sua specialità sono i collage, sia musicali che fisici. Tagliando i sample reinventa i vecchi pezzi soul, dandogli una nuova vita e facendogli respirare l'aria dei nostri giorni, pur facendogli mantenere la loro anima originaria. Tagliando pezzi di carta da riviste, giornali e qualsiasi altra cosa colorata, crea quadri originalissimi.
Come cita la sua biografia, Paul ha passato alcuni anni a ricercare quel mood musicale che lo facesse entrare in sintonia con l'universo, portandolo poi nella Way of the Beat, che l'ha ispirato/ossessionato nell'ascolto di infiniti vinili e campionandoli. Ciò l'ha anche fatto allontanare dalla società civile fino all'uscita del suo primo ep, titolato LLove Is… EP, scaricabile gratuitamente dal sito dell'etichetta Snowy Peach ed ascoltabile gratuitamente dalla sua pagina soundcloud.
I musicisti del cuore Paul Zigfrist sono Marvin Gaye, Isaac Hayes, J Dilla e Madlib. Proprio da quest'ultimo forse trae maggiore ispirazione. A testimoniarlo sta anche la sua gran produttività. Infatti, dopo la selezione dei 7 pezzi presenti nel suo EP, dispiaciuto nel non dare la necessaria luce anche ad altri beats, ha deciso pubblicare anche un mixtape, LLove Is… The Mixtape, di cui DLSO ha l'esclusiva.
Buon ascolto.